Find out how to make your products interactive with "Inquadrami"
The need of consumers to have more and more information on the products they buy has given Primigena Group S.r.l. the cue to create Inquadrami: an APP capable of satisfying this need.

The product transparency revolution is here.
94% of consumers in a recent study * said it is important for food brands to be transparent about the ingredients, contents and procurement of a product.
The importance of clearly understanding the food we eat is evident in our daily life, as more and more people manage food allergies, intolerances and sensitivities while trying to maintain a normal lifestyle.
This shift in the way people buy and eat has profound implications for the food and consumer products industry.
Inquadrami
The technology that delivers digital information to consumers.
Your interactive packaging.
TO bring buyers closer: motivating them to buy new products
FOR brand transparency: an opportunity for the brand and a safety for the consumer
TO offer more information: from nutritional values, to ingredients, to expiration date, to the supply chain ...
TO meet consumer demand: "connected" packaging makes information more immediate and accessible
TO differentiate packaging in waste collection

Find out how to view the product sheets with Inquadrami
Using the INQUADRAMI application, it is possible to view the product sheets included in the platform, directly on the smartphone.
Scan the EAN code, the special QR code or the Watermark (DIGIMARC), printed on the product packaging to access additional content.
Interactive packaging

Integration in the graphics of an invisible code (Digimarc)
Interactivity of 2D codes (qr code - datamatrix)
Interactive codes 1D (EAN, ...) with product sheets
We integrate traceability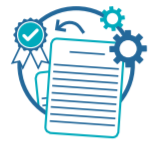 Through the INQUADRAMI App we can track multiple data (production - logistics - sell out)
Technical data sheets of the product at the service of the consumer
Certificate of authenticity of the product